Food Truck: our Food Truck can be parked at your private area and we shall serve up delicious meals!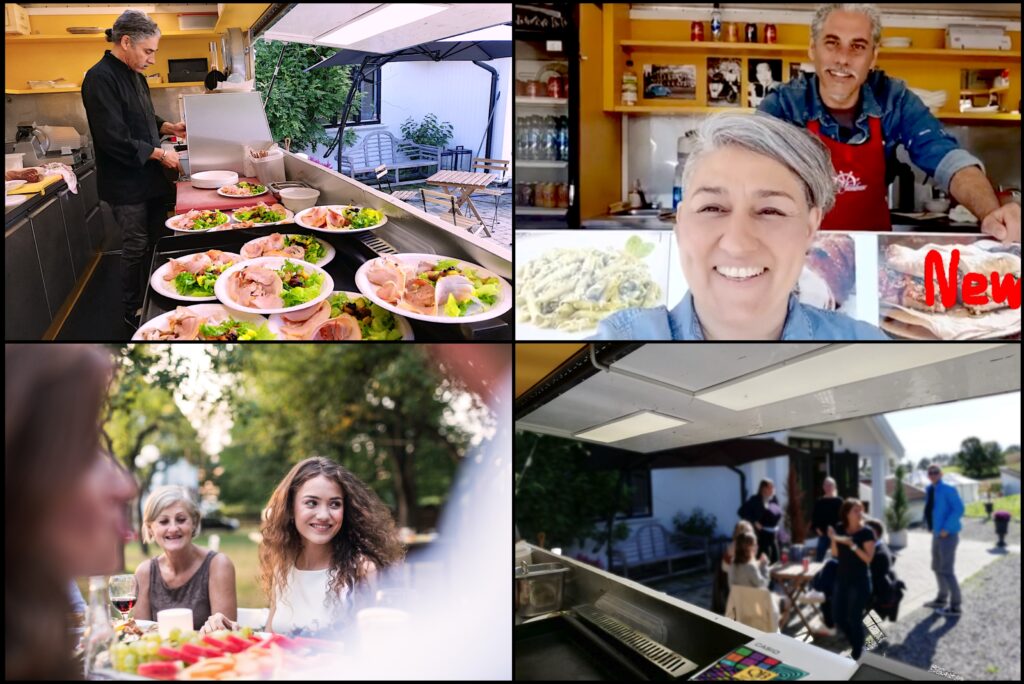 We have catered for:
– Summer Parties
– Office lunches
– Music Events
– Birthdays
– Bachelor/Bachelorette Parties
– Open House
– Sports Events
– Student Catering
Option 1: Classic
we charge for what guest order . Each dish will be 300 nok, and they can choose from ( this is just an example, we can decide together): 
– Parma prosciutto Plate with bruschetta & Burrata cheese
– Pulled beef sandwich with BBQ sauce, Vestfold lettuce, melted cheese, pickled veggies and Jalapeño 
– Pasta Arrabbiata,  roasted cherry tomatoes, garlic, parsley and fresh chili pepper 
Option 2: Tasting
we do smaller portion of  4 dishes (example all the above plus  House roasted porchetta with potato salad ) and everybody can taste a bit of everything.
Contact Silvia for agreements
Option 3: Gourmet Cuisine
similar to number 2 but we can pass around some little tapas and chef can have fun creating something special for the evening, example Ceviche (Peruvian style shrimp, scallop and kveite, marinated with leche de tigre), beef carpaccio with balsamic pears and shaved parmesan, raw veggies with different dipping. (we will keep in mind vegan option)
Contact Silvia for agreements

Dessert: Classic Tiramisu or Pannacotta with Berries
Additional 50 nok per person
Fixed cost:
Food truck leie, nok 3000 in Tønsberg and Nøtterøy areas. We need two electrical plugs of 16A. We will come few hours in advance to find the perfect spot and get organized. We will serve the food and clean up. We do not apply strict rules on how long the party is… we serve food till guests like it!
Call 41350086 or email staff@qbstreetbistro.com